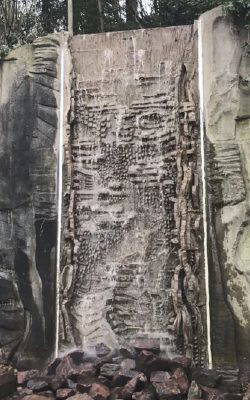 The Wall Reinstated in 2021.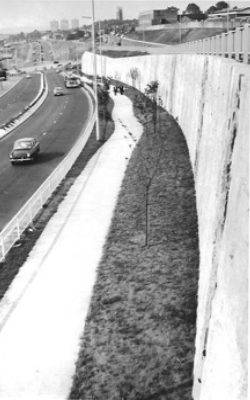 The Wall in 1973 – photo courtesy Jenny Knowles.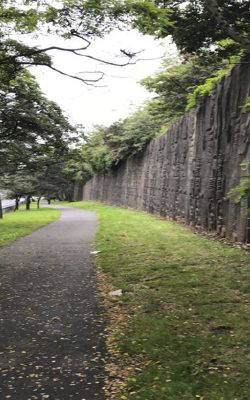 Path overseeing the Wall in 2021.
The reinstatement…
The reinstatement of the waterfall feature at the foot of Comberton Hill has been received with much local delight. Here is the story of that waterfall and of the 'Great Wall' of which the waterfall is such an essential element.
The Great Wall of Kidderminster (or  the Kidderminster Ring Road Stage 3 retaining wall to give it its more formal title) was constructed in 1972-73 as that stage of the road itself was being built. In order to avoid taking the new road through Green Street and having to displace businesses in that area, an alternative route was chosen which required cutting through a steep hillside.
A retaining wall was required to prevent and slippage of the hillside and also to support Hoo Road and the premises and homes at the top of the slope. The scale of the all required was obvious from the very first planning stages ( it turned out to be some 330 metres long, 11 metres high at the tallest point and with a surface area of over 2000 square metres ).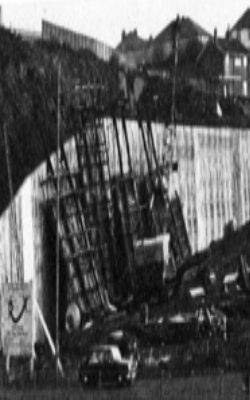 The start of the Waterfall project.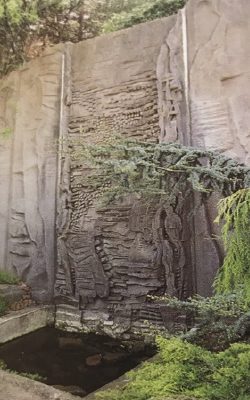 Waterfall feature in 1973.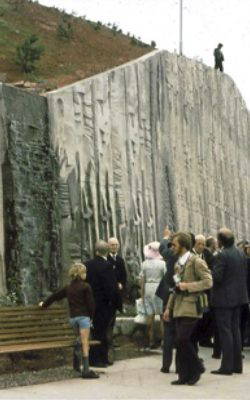 A crowd on opening day August 1973 photo courtesy Robert Barber.
The history…
A landscape architect, Douglas H Smith, was appointed to advise on ways in which the impact of such a huge structure might be made less oppressive. Smith proposed that the face of the wall might be decorated with relief patterns which echoed the weathered outcrops of sandstone already evident in the hillside – he also suggested that some planting among this patterning might further soften the wall's impact.
The proposal was followed with some elaboration when the wall was created. Bill Mitchell, already an internationally celebrated sculptor with experience and a reputation  for working in concrete was commissioned to work with local specialist contractors George Law and Company, Douglas Smith and the Borough Engineer's Department to create the wall we see today.
Mitchell designed the panels which are an emulation of the sandstone rockface and also a small number of much more intricate panels which comprise many different abstract elements and which further break up the scale of the wall itself.
However, the idea of some form of water feature to create another element of interest in the structure had been under consideration from the outset. Mitchell himself was particularly keen to give the wall an element to which passers-by might find attractive and interesting. One of his detailed abstract panels was designed to provide a backdrop for the waterfall which has just been reinstated – and which has brought a smile and happy memories to so many in the town.
(For a fuller account of how the wall was planned and built see Kidderminster Civic Society – HISTORICAL ITEM: The Great Wall of Kidderminster (btck.co.uk)